Handling

Handling on the combined transport terminal is carried out by LDCT (Lille Dourges Container Terminal).
The SAS LDCT has shareholders : Novatrans, Naviland Cargo and NCS (GIE Ports de Lille - Port de Dunkerque).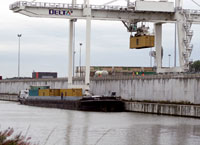 LDCT carries out waterways, rail and road handling and also manages container and swap body stocks. LDCT also has the means to ensure rail traction between the marshalling yard and the Terminal.
LDCT can handle swap bodies and containers which are temperature controlled or contain "dangerous" goods in transit.
In 2016, LDCT handled 94,000 transhipments representing around 322,270 handlings in Teus 20' equivalent units. LDCT handled 3,341 trains and 450 inland waterways barges. Dangerous goods represent more than 14 % of the handlings on the Terminal in 2016.
The maximum estimated capacity of the site is about 200,000 transhipments a year.
To complete services on the inland Terminal for rail operators, on the marshalling yard, a technical centre for locomotives and wagons has been operational since May 2016.