Sustainable development

The objective of DELTA 3 is to create added value in the field of transport and logistics, through environmentally friendly modes of transport. Delta 3's sustainable development policy encompasses 2 essential parts of the site:
the combined transport terminal.
the architecture and landscape development of the site.
Combined transport terminal :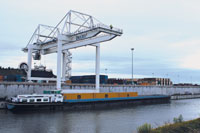 The combined transport terminal in DELTA 3 enables containers and swap bodies to be transported using environmentally friendly modes of transport (rail and inland waterways). Almost 100 000 road transports are thus avoided each year.
The containers come from the Dunkirk, Zeebrugge, Antwerp and Rotterdam sea ports by inland waterways. A barge can carry up to 78 TEU, equivalent to 78 lorries.
The swap bodies are transported by rail to the South of France, Italy and Spain. Over 1,000 kms of road transport are thus avoided each time.
Per ton of goods transported, rail and waterways transport is respectful of the environment (decreased green house gas emission and noise pollution) and contributes also to the decrease in traffic density and road accidents.
Architectural and landscaping specifications :
In order to obtain a qualitative environment, the developer drew some architectural and landscaping specifications for each different area in addition to the already existing regulation.
The specifications were drawn for the various logistics areas, the service center and the combined transport terminal.
They aim at ensuring their integration in the landscape and creating a coherent whole for future development.
The other areas are mainly dedicated to facilities (roads, rail tracks) and are not destined to be built upon except for technical buildings. They are thus included in an overall landscaping plan.
Overall site set up :
From a bird's eye view, the buildings and planted areas are organised in a mesh around the axis of the Deûle canal which crosses the site from one end to the other.
The general guidelines are as follow :
the positionning of all buildings and major planted areas along directions perpendicular or parallel to that axis.
Setting up moving and parking areas along the same directions.